One of the most common and annoying aspects of aging is . . . dryness.
Hair, eyes, skin — and a few other places — might need a bit more attention (and lubrication) than when we were younger.
But, don't despair! Here's a quick guide to moisturizing your body — head to toe — with tips and products that get the job done:
Hair: Most of us wash our hair too often and use too much shampoo. Lorraine Massey, founder of Devachan Salons and Deva hair products, hasn't used the stuff in over 25 years. Instead she cleanses her hair and scalp with conditioner every day. I'm not suggesting you stop shampoo cold turkey, but try this for a few weeks: use only conditioner (no shampoo) to cleanse your hair, letting a little extra stay on instead of rinsing it all out as we've been trained to do (I count to 5 as I rinse, then stop). Use a tiny bit of shampoo (without sulfates!) just once a week. And slow down on the blow-drying (or stop completely if you can!). Result? Dry hair will be a distant memory. Bonus tip: I had a short chat with Lorraine about how to have fabulous hair at any age, and you can watch right here:
http://youtu.be/6iLO_phttE8
Until next time, remember this:

We can't control getting older . . . but . . . we can control how we do it!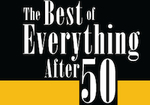 Questions? I want to hear from you! For more tips on living your best life after 50 (or 60, or 70…) check out The Best of Everything After 50: The Experts' Guide to Style, Sex, Health, Money and More andwww.bestofeverythingafter50.com. Keep me posted on how you're doing by subscribing to me on Facebook and "tweeting" me on Twitter at @BGrufferman. Check out the full video series – The Best of Everything – on the AARP YouTube Channel.