I ran the NYC Marathon in 2003 when I was 47, not knowing exactly what I was getting into, especially since I only started running in order to be in the marathon.
At that time, my goal was simply to finish. And, I did… in six hours and 45 minutes. Not a world record by any means, but it felt good to know that I had actually run in and finished this notoriously hard course. The idea that I probably could do better, though, nagged at me for a long time.
Shortly after that first marathon, I stopped running and pretty much stopped doing any form of exercise. It wasn't until I turned 50 and started to question everything, leading me to research and write my book, that I tiptoed back.
This year I decided to run in the NYC Marathon again, but my goal was to raise money for pancreatic cancer research in memory of a dear friend who succumbed to the disease last year. Having a competitive streak in me that hasn't diminished much with age, I was determined to beat my 2003 finish time.
And, I did. One month before my 55th birthday, I ran one full hour faster than I did when I was in my 40s. I trained better, followed the Jeff Galloway "run/walk" program and was mentally prepared to beat my own record. While I finished 15 minutes later than my planned 5 hours 30 minutes, I am comforted by the knowledge that had I not stopped to dance with all the bands that lined 4th Avenue in Brooklyn, or taken so many photos with New York's finest firefighters and policemen, or took time to thank the many volunteers who plied me with water and Gatorade, I would have probably come in under five hours. But, who cares? I had a blast, and felt absolutely fantastic afterwards. More importantly: our little group of 34 marathon runners raised more money for pancreatic cancer research than any other in the history of the organization.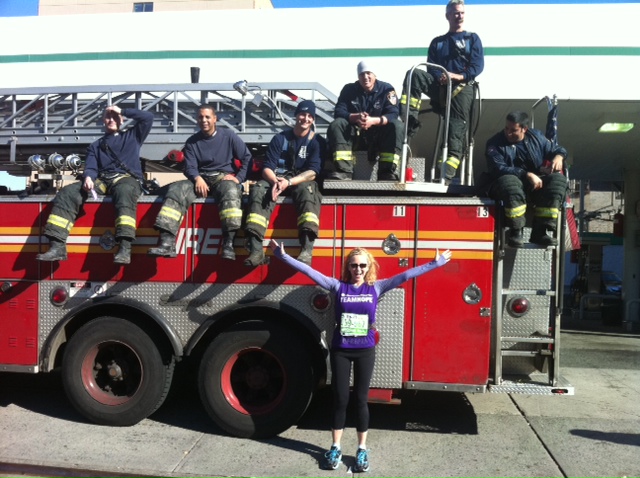 "Shape" magazine called my story one of the top three inspiring stories from the NYC Marathon." The editor wrote, "Yesterday a record 47,107 participants set out to run the 2011 New York City Marathon. While there are probably thousands of inspiring stories from the race, here are three from the New York City Marathon that caught our eye!"
3 Inspiring Stories from the New York City Marathon
1. Running to raise awareness and heal. Fifty-four-year-old Barbara Hannah Grufferman decided to run in the 2011 New York City Marathon last year after a friend died from pancreatic cancer at the young age of 48. To alleviate her grief and anger, Grufferman started running. After a few months, she signed up for the New York City Marathon, raising funds for and training with the Pancreatic Cancer Action Network. Read her full story here.
StyleGoesStrong published an article about my "marathon triumph," pointing out that I ran "in true Style Goes Strong style, to match her purple "Team Hope" T-shirt — she was wearing purple nail polish!"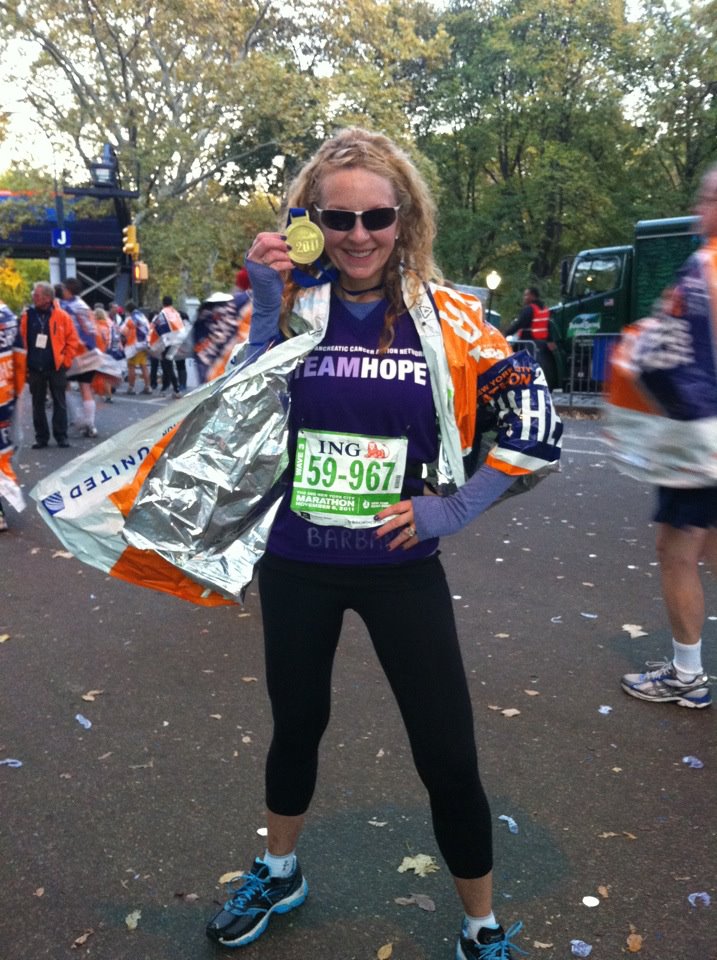 I set out on marathon Sunday with one goal: to finish in under five hours 30 minutes. But, that goal morphed into a different one while I was on the course: to show the world that this post-50 woman has the power to be and do whatever she wants.
The only one she has to prove it to is herself.