During the next few weeks, it will be hard to focus on anything but the upcoming TCS NYC Marathon, when banners start streaming throughout Central Park, and people pour in from all corners of the world to watch, volunteer, or, more exciting, run. Even Tom Petty or Imagine Dragons crooning in my ear buds can't drown out the sounds of workers getting the city ready for one of the most thrilling sports events of the year.
That I happen to live on the corner of mile 17.5 of the grueling (and it is grueling) 26.2-mile course just adds to my heightened interest. There's just no getting away from it.
And, since 2011, along with the building excitement I feel this time of year, is the deeply held belief that I will do it again.
When I turned 50, I wanted to pull the proverbial blanket over my head and stay there. Post-menopausal pounds were piling on, I hadn't exercised in years, and everything seemed to be
changing all at once. It was a terrible feeling of being out of control, and out of touch with my authentic self. I wasn't sure how to get fit and healthy and stay that way, and I knew that if I didn't do something now, I would just continue along this path.
Now, I run for health. I run for joy. I run to meditate. I run to keep the weight off. I run
because I can.
Running is my super-power.
I felt so powerful, in fact, that in 2011 I did something that earlier in my life was so beyond my reach that it never even entered my mind: ran in the NYC Marathon to celebrate my 55th birthday.
After many months of training, and getting into what was probably the best shape of my life, I completed the marathon with energy to spare, and immediately started to plan for the next one before I even got home.
My belief is that if you can walk, you can run. And if you can run (even slowly, and even with walk breaks, as I do) you should do everything in your power
to run — at least once in your life — in the NYC Marathon for all these reasons and so many more:
#1 You'll get a real medal
#2 For the rest of your life you can call yourself a "Marathoner" and no one can ever take that away from you
#3 It's extremely cool to say "Oh yes, I ran the NYC Marathon . . . " at cocktail parties or job interviews (everyone dreams about it, but very few actually do it)
#4 Your kids will be amazed (and very proud)
#6 You will be motivated to stay in shape
#7 You'll run through all five boroughs of New York City in one day (and across many bridges)
#8 You'll never look at Brooklyn the same way again
#9 Your friends, family and complete strangers will be standing and waiting at various points during the 26.2 mile course cheering you on
#10 If a specific end time isn't the main goal (for my first marathon, just crossing the finish line was the goal), you can stop and snap photos with New York's extremely adorable and heroic firemen (here I am with a few)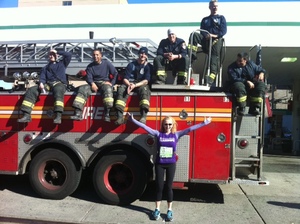 #11 You will do something that you never, ever thought you were capable of doing
#12 You will feel like a rock star
#13 If you're over 50 — like me — your feelings of accomplishment will be double, maybe triple
#14 You will feel the urge to 'high five' every person you see cheering you on along the streets when your adrenaline is still sky high (but save some of that much-need energy for the lull during the jaunt through relatively quiet Queens)
#15 You won't be able to resist doing a little internal smirk when friends boast about running a half marathon
#16 You can raise money for a very worthy cause (I've run for several charities but my heart belongs to the National Osteoporosis Foundation where I serve as a trustee)
#17 By mile 18 you will wonder if you can keep going, but you absolutely will
#18 By mile 25 you will start to wonder if you will ever truly make it to the finish line, but you absolutely do
#19 By mile 26, as you're getting closer and closer and the crowd is yelling and screaming and pushing you to the finish line with their support and enthusiasm, your adrenaline kicks in again, you start running faster and faster and, knowing that your photo is about to be taken, you hold your head high, raise your arms as if to hug the world, smile and cross that finish line
. . . and reason #20, which is really the #1 best reason why you should run in the New York City Marathon at least once in your life . . . you will be part of the official 'badass' 1% of the world's population that has ever completed a marathon. Oh yeah . . .  
Wish me luck as I run my 7th NYC Marathon on Nov. 3rd . . . one month before turning 63!
Check out my book — Love Your Age: The Small-Step Solution to a Better, Longer, Happier Life — by clicking right here!