An article in the New York Times made me wonder if I would ever go to a social event or business meeting without makeup. Hmmm.
It proclaimed the "no-makeup look as the new beauty standard" and raised the question of whether going without makeup makes one more "authentic."
Well, maybe it does. But reading the article made me, someone who doesn't walk the dog without a little lipstick, feel inclined to speak out on behalf of those who love wearing the stuff.
The 'no-makeup look' ebbs and flows in popularity, peaking when celebrities like Beyonce' or Gwyneth Paltrow post photos of themselves on Instagram without a stitch of powder or even a dab of lipstick.
Those quoted in the article — makeup artists, beauty editors, bloggers, and actresses — collectively felt that going bare-faced can be a "show of confidence" and is "a balance between pragmatism and feminism." Oh, did I mention that they all seemed to be under 30 with pretty terrific looking skin, lush brows and lashes, and naturally rosy lips and cheeks?
After reading it, I was left wondering: does going bare-faced make you more confident and authentic, and is it a look that should be embraced by women over 50?
But let's move beyond the physical. What about the political?
Deborah Rhode, Stanford law professor and author of "The Beauty Bias," shared her views in the article, offering a feminist perspective on the discussion:
Makeup expectations, particularly in the workplace, are about "gender subordination," she said. Women are subject to much more rigorous standards for their appearance," Ms. Rhode said. "There's an assumption that a woman is somehow less professional if she doesn't wear any makeup at work," Ms. Rhode said. "But it's really women being subject to a double standard. They are faulted for caring too much or not enough. Either they 'let themselves go' or are 'vain and narcissistic.'
As a feminist and woman over 50, this all resonated with me. I can attest to the importance of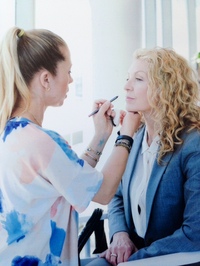 feeling confident in a world where we are bombarded with images and messages telling us how young, thin, and beautiful is better. I'm a fierce advocate for positive aging and believe in embracing our age, whatever it is.
However, I know this much is true: wanting to feel pretty and confident and embracing your age and power are not mutually exclusive.
The key to wearing makeup, especially after 50, is this: less is more.
It's not about covering up our imperfections, but enhancing our natural beauty. Just a little bit of lipstick or blush can make any woman feel prettier, which in turn, makes us feel more confident. Is wearing makeup diametrically opposed to embracing our age, confidence, authenticity and power? I would argue that it does not.
Beauty trends will come and go. Today, it's the "no-makeup look" but tomorrow it'll be back to false lashes. What every woman should do (whatever her age and whatever the current trend) is wear makeup that will make her feel pretty, polished, and modern.
For an every day, less-is-more look for women over 50, check out this short video, which is part of "The Best of Everything After 50" series for the AARP YouTube Channel.