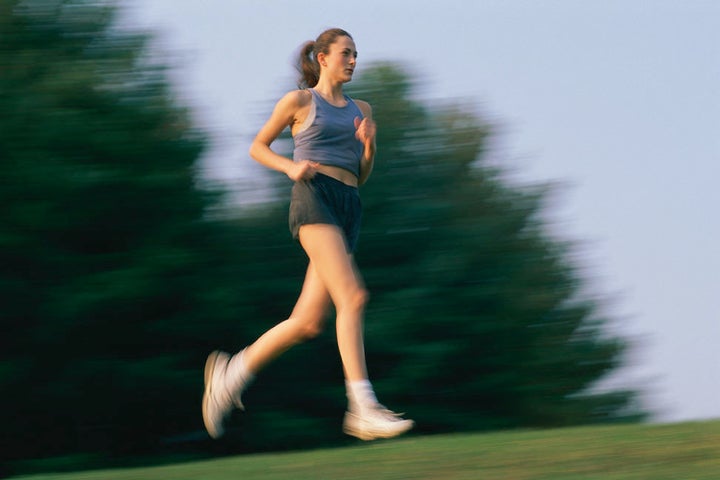 A plan to lose weight, start a fitness program, save money, spend more time volunteering, get out the door faster every morning — or do anything new — can be stymied before you even start if it seems too difficult to achieve. Like most of us, you'll be tempted to just give up.
There's a simple solution to streamline your goals, plans, even beauty routines, so you actually accomplish what you've set out to do . . . successfully.
Let's say you've decided to lose 10 pounds by the start of summer, which is about 12 weeks from now. That should give you enough time, but it's still not easy for most people to do. Instead, why not consider losing five pounds in six weeks? Once you've hit your goal, you'll simply repeat the goal of losing five pounds in six weeks. By summer, you will have successfully lost the ten pounds.
It's daunting to try to change your life — even if it's something as seemingly simple as losing a few pounds or starting an exercise program. People who make New Year's Resolutions each January, usually fail, because the goals are unrealistic and therefore unreachable.
My way of formulating new habits is simple and I call it "The 50% Solution" — a psychological approach to cutting your goals roughly in half, allowing you to reach them more quickly, thereby giving you the motivation you need to keep going.
There are many ways to use "The 50% Solution" to simplify your life and increase the success rate of just about anything you set out to do:
Weight:

In addition to cutting out processed, high-caloric foods and sugary drinks, eat healthier (dark leafy greens, brown rice, lean meats, nuts, blueberries, olive oil) and eat less. You don't need to count calories. Just cut the amount of food you would normally eat by roughly half. Make sure you eat small meals throughout the day — every two to three hours —to keep your blood sugar level steady.
Fitness:

To help expedite the weight loss and build strength, stamina and fitness levels for the long term, simply move your body 50% more than you have been. If you normally walk for 30 minutes a day, starting walking for 45 minutes, then eventually build up to an hour. If you've been doing 10 push-ups every day, start doing 15, and keep going until you get to 20. If you're starting a fitness program for the first time, begin with "baby steps" (i.e., walk for 15 minutes a day, then build up to 30 and so on). It's all about being successful as soon as you start. This will keep you going, and will make it easier to jump up to the next level. And remember this golden rule about exercise: Every step you take is one step closer to better health.
Money:

Most of us need to be better at the basics, like saving more and spending less. Instead of being vague about "saving money" as many of us are, state a specific ideal goal and then start socking away half that amount. It will seem infinitely less painful and more reasonable. Eventually you'll feel so good about your new-found discipline, you'll be inspired to save a little more. The flip side of this is to spend a bit less while you're saving a bit more. Pare back on those dinners out or expensive lattes every morning. Every single thing you stop buying or spending money on will be contributing to your overall financial well-being. And every psychologist can tell you that successful behavior breeds more successful behavior.
Makeup:

The older we get, the less we need of just about everything, especially makeup. But the "less is more" guideline applies to just about every age. The best look for almost all women is one that creates a fresh, modern face with just enough makeup to cover imperfections and give some definition, especially to eyes. If you've been spending more than five minutes on your face, that's way more than 50% too much. Use a moisturizer with SPF 50, a bit of concealer, some tinted moisturizer a little blush, eyeliner along the lash lines only, mascara, pinkish lipstick . . . and you will look 50% more fabulous!
Style:

Most of us have too many clothes in our closets that we simply do not wear. Perhaps we bought an item because it was on sale or we've had it for so long it's now out of style or no longer fits. Whatever the reason, the fact is you probably have too many clothes, and the best thing to do is pare back what's in your closet by 50%, for starters. Keep those items that are essential for a good foundation: great pair of black slacks, perfect-fitting jackets, knee-length pencil skirts and so on. Basic items that can be worn for two or three seasons, be mixed and matched with other things you own and can be worn with new items you buy each year are keepers. You'll soon discover that you'll be paring back what's in your closet by 50% or more on a regular basis.
"The 50% Solution" can be applied to just about every aspect of life. It breaks down the steps so each one is attainable, not overwhelming. A few years ago I broke my arm, and had to stop running for six weeks until it healed. During that time, I slacked off on all exercise and yet continued to eat at the same rate. In fact, I was eating even more, mostly snacks. Result? I gained six pounds. When the doctor gave me the thumbs up to run again, I applied "The 50% Solution" by setting out to lose three pounds in two weeks. I ran for 30 minutes (half of what I would normally run) every other day, and cut out everything extra I had been eating by 50%. In two weeks I lost three pounds. Then, I set out to lose the last three pounds in two weeks, increased the time I was running to a full hour and cut back on eating a bit more. I ended up losing four pounds and have regained my motivation to stick with my normal fitness and healthy eating program.
It's all about taking the "micro-step" approach, setting realistic goals — not overly ambitious ones that can never be met — and even then, cutting them back by 50%. And it's an uncomplicated way of streamlining your life to make room for what's truly important.
Check out my newest book — Love Your Age: The Small-Step Solution to a Better, Longer, Happier Life — for hundreds of ways to help you shed bad habits and embrace healthy ones!